Keeping Cool with Improved HVAC Packaging Bags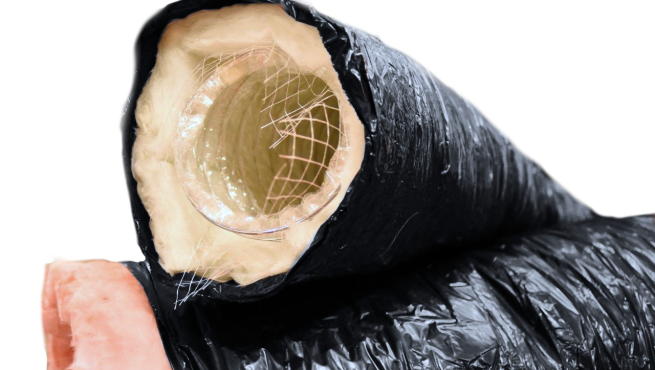 At IEF, we currently service the heating, ventilation, and air conditioning (HVAC) industry with two main products: HVAC black jacket (see image) and HVAC packaging bags. The black jacket film is used as a component of the overall flexible air duct, while the packaging bags are used as the external packaging for the completed product.
Recently, a customer with whom we supply HVAC packaging bags came to us with a problem – they've occasionally been having sealing issues. Sealing issues can be caused by a variety of conditions, but a sealing issue on a highly specialized product such as HVAC packaging bags needs to be addressed immediately.
HVAC packaging bags are unique in that they require extreme amounts of seal strength and elongation properties. The bags are used to not only package the finished flexible air duct, but to keep it compressed until ready to use. A seal failure on one of these bags can cause the large flexible air duct to expand unexpectedly, which could potentially be hazardous.
Our technical team moved quickly to address the problem. Working directly with the customer, IEF technical analyzed their current blend to look for potential areas for improvement. The challenge was simple, yet complex: correct the seal issues while maintaining quality levels throughout the rest of the structure.
Embracing the spirit of innovation and sticking true to our name, our technical team engineered a new and improved blend that we were confident would correct the issues, and collaborated with the customer to begin trials immediately. After several trials, the results were clear – the new blend not only solved the sealing problem, but it improved the performance of the bag overall.
Aside from addressing our customer's concerns, the exercise gave us an opportunity to address and improve our other HVAC blends and manufacturing processes in general. As a result, we've been able to better serve the HVAC market and our other customers across the board. We're also currently working on a downgauged version of our HVAC offering, and hope to introduce these new products in the near future.
At IEF, we embrace any opportunity to push the boundaries of what our films (and your products) can do. We're proud of our ability to solve even the most complex problems that our customers bring us.
Have a problem that needs solving? We'd love to engineer a solution for you. Reach out to one of our experts today!