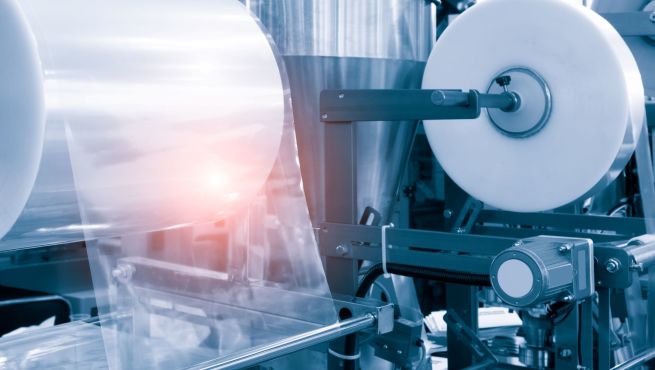 Stretch hooder is the preferred pallet packaging and protection method for a large number of businesses and manufacturers. Utilizing stretch hooder machines, a specialized stretch film is stretched over and around the pallet and pallet load creating an outer layer that serves as both a protective shield and an effective means of containment throughout the shipping process. As a leading North American manufacturer of polyethylene (PE) films for stretch hood, we know a thing or two about the benefits of hooder films.
1. Five-Sided Pallet Protection
Stretch hood, when compared to alternatives such as pallet wrapping, provides much more security by way of five-sided coverage. The stretch hooder machine takes the film and stretches it over and around the pallet and pallet load. This results in all five exposed sides being contained by the stretch film. In contrast, the pallet wrapping method typically only covers four sides. The use of stretch hood films also eliminates the need for additional packaging materials that would be required to cover the exposed top of the pallet when using traditional pallet wraps.
2. Protection from the Weather
For pallet loads that may be exposed to the elements, stretch hooder films are the ideal solution. Hooder films provide an excellent water barrier, ensuring the pallet load stays safe and dry, even when left outdoors. IEF's stretch hooder films also feature UVI additives, allowing for protection from potentially harmful sunlight UV ray exposure.
Interested in learning more about how IEF's hooder films can help protect your products from the elements? Reach out to one of our technical experts today.
3. Source Material Reduction and Cost Savings
Hooder films also create opportunities for significant reductions in film usage. The pallet wrapping method requires large amounts of film for each pallet load, whereas the stretch hooder method successfully covers and contains the pallet with a fraction of the film.
This reduction in film consumption can create substantial cost savings for those who switch from pallet wrap to stretch hood. In addition to cost savings, the decrease in film usage creates a more environmentally-friendlier outcome as less virgin plastic materials are required.
In short, it's a win-win outcome across the board.
4. Adaptability and Versatility
A major benefit of hooder films is their ability to adjust to various shapes and sizes, making them extremely versatile and effective at protecting a wide variety of products. Some examples of markets our hooder films can serve include:
Building Materials
Chemicals
Corrugate
Food & Beverage
Household Appliances
Insulation
Lawn & Garden
Paper & Printing Materials
Don't see your market/application listed here? Don't worry, we've got you covered. Reach out today to learn more.
5. Keep the Focus on Your Branding
For most companies, their logo and branding design is extremely important. With stretch hooder films, you don't have to worry about your company's logo being covered or hidden. Hooder films are typically transparent, meaning your logos and products remain visible at all times.
In addition, this makes it easier to spot potential product quality issues, as your products won't be hidden behind multiple layers of film.
Think stretch hooder films might be right for your company? Reach out today and ask about our latest industry-leading stretch hooder product.
At IEF, It's About the Film