Putting a lid on it: meet our newest innovation in food packaging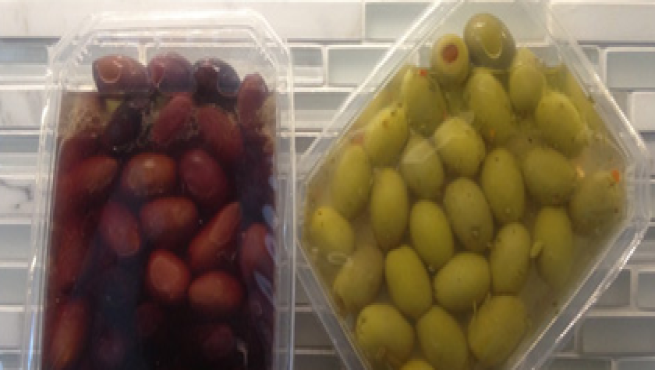 Sitting down and talking to our customers – really listening to their challenges – is often the spark for a new idea or better approach. Such was the case for our latest innovation: a clean-peeling lidding stock.
Developed specifically for one of Canada's leading suppliers of gourmet olives, the new lidding stock had to meet several performance challenges. First, it had to provide an oxygen barrier to keep the olives fresh. That perfect seal had to survive transportation of the product from production line and warehouse to retail and then home with the consumer. And it had to work despite being in constant contact with the oil and brine the olives float in. Finally, the application demanded an improved consumer experience with a clean, even peel: no tears, easier opening and fewer spills.
IEF's Don Oldford explains, "It's important for lidding stock to peel cleanly and evenly, without tearing or leaving bits behind. An uneven peel can mean spilled olive oil, and a difficult peel can mean airborne olives everywhere. No one wants that. And if it doesn't come off cleanly, little bits of plastic strings stay on the edges of the olive tray, spoiling the visual presentation of the food."
After his conversations with our customer, Don and our team sat down with our resin technical development engineers to formulate a solution to the challenges. Several options were tested and pilot trial runs staged. Sheet samples were used to narrow the possible blends, and then two finalists were sent for further testing.
The result? A solvent-free, ethylene vinyl alcohol (EVOH), 4 mil peel-able lidding material, suitable for use with polypropylene trays. It's also FDA and CFIA approved.
"This is our first peel-able EVOH product," Don says. "I think our expertise in multilayer films really helped in the development of the solution. This resin blend requires top-of-the-line equipment to produce, but at the end of the day, we've been able to give our customer a better-performing product at a lower cost, and that's what matters."
Olives may be the first application, but they're only the beginning. Down the road, we might develop lidding stock for pickles, sauces or dairy products, as well as different sealants to accommodate different types of trays.
"I'm hoping this is just the first in a whole series of lidding stock," says Don.
How can we help you solve your toughest packaging challenges?