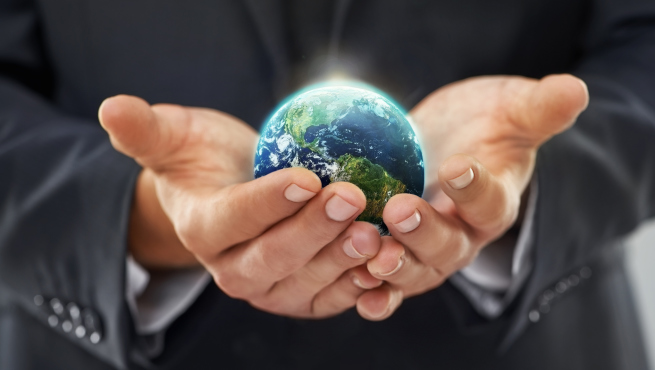 Sustainability is a word that carries a lot of weight in a number of industries, and is a movement that is gaining momentum in plastics. For Inteplast Group, being sustainable was never an obligation. It was an expectation to embrace the tenets of sustainability from the very beginning.
The building blocks to sustainable operations
With sustainability being a key priority for Inteplast Group's founder and president, Dr. John Young, it's become engrained in the culture of the organization at all levels. Yet, the word "sustainability" means different things to different people. For Dan Martino, Senior Director of Texas Administration at Inteplast Group, sustainability is what sets Inteplast Group and Inteplast Engineered Films apart.
"Since the word has become so popular, it seems that the meaning of sustainability has blurred a little," said Martino. "For us, being sustainable means that whatever we're doing today, it's something that we can do consistently 20 years, 40 years and even 80 years from now. It's a key component to the core idea of sustainability that often gets overlooked."
This definition of sustainability still holds true today as it did in the early 90s. Like most companies in their infancy, there was a strong focus to find efficiencies to help reduce costs. Inteplast Group's efforts to be more efficient also meant recycling and reusing whenever possible.
"In 1992, we began using paper cores to roll our film and curregated boxes to package our plastic film bags. As a result, we'd end up with scrap cores or boxes not being used for one reason or another," said Martino. "That same year, we set up a contract with a recycling company who brought a bailer into our Lolita, Texas site and we immediately started filling it."
"Most companies will make a profit off recycling programs like these. For us, it's always been a break-even project. We're not doing it to make money. We're doing it for the environment and to keep materials that can be recycled out of the landfill. We even have developed programs to buy back our wood pallets from some customers. If that means one less tree being cut down then it's a worthwhile endeavor."
Staying true to the idea of sustainability, these efforts have become a part of daily operations, which means Inteplast Group can focus on other areas of sustainability and efficiency.
Reduce, measure and repeat
Building upon past sustainability efforts, Inteplast Group's more recent focus revolves around the social, environmental and economic impact its operations have across North America. While the top priority has always been to take care of its employees and to be an engaged member of each sites' community, reducing the environmental impact of its operations is just as important.
"When it comes to our operations, we have no harsh chemical reactions nor do we use any harsh chemicals on site. Because of this, we can focus more on reducing our natural resource consumption," says Martino.
This shift is one that happened naturally for Inteplast Group, — there has been a constant effort to continuously improve its sites' efficiency.
"We're working to find all deficiencies in our plants relative to natural resource consumption. We're re-engineering how we operate by using efficient equipment to reduce our electricity, water, and gas consumption. After all, these are finite resources so we need to be very conscious about how we can reduce our use of them.
"One of our biggest initiatives to reduce energy consumption has been switching our DC equipment to AC equipment because it reduces our electricity consumption. We've even gone as far as installing capacitors that convert 100 percent of every kilowatt that we receive. We're that serious about our efforts to be as energy efficient as possible," says Martino.
Reduction efforts can also be found in Inteplast Group's zero-waste initiatives for all of its sites.
"We're driving all of our facilities to measure every single pound of what goes to the landfill and what gets recycled. From that, we determine the overall percentage and from there we've asked our facilities for no less than a 10 percent reduction in landfill waste annually," says Martino.
Yet, to show the real impact of these sustainability efforts, every pound of landfill avoidance and every kilowatt of energy used is recorded. This measures and proves those efforts are effective, but also to give Inteplast Group's supply chain partners and customers peace of mind knowing that their partner in plastic film holds itself accountable for how they operate.
Sustainable operations help to create sustainable products
With all these efforts to make each site's operations as efficient as possible, it comes as no surprise that Inteplast Group has also developed plastic films for products that help reduce their environmental impact while still keeping end-user convenience in mind.
"Single-serve coffee pods have made a huge splash over the past couple of years for both their convenience and environmental impact," said Steven Griggs, Director of Sales, Inteplast Engineered Films at Inteplast Group. "When it became clear to our customer that these pods needed to be more sustainable to stay relevant, we helped to find them a biodegradable solution."
Inteplast Group's biodegradable plastic solutions have also been used to solve food waste challenges that the average consumer may or may not have heard about.
"Compostable food waste bags have become common place and we're proud to be one of the few companies certified to produce these films. It's great that these films are being used in many different applications to help combat food waste.
"Washington Fruit & Produce Co. are a great example of a company we've partnered with to help reduce food waste. It might come as a surprise, but the stickers found on most fruit is what prevents them from being composted properly. As a result, we worked to find a biodegradable solution for those stickers that worked for everyone and it's a strategy we continue to work with today," said Griggs.
Making sustainable, biodegradable engineered film solutions can be a reality and we're ready to help. Get in touch with our experts today and let's talk about environmentally friendly plastics.