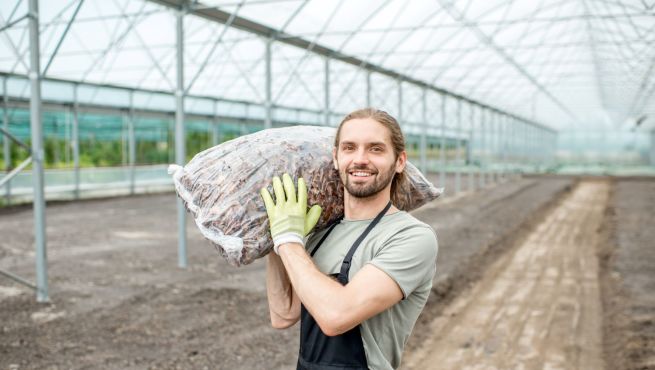 At IEF, we embrace the challenge of engineering industry-leading films so much that we've put it in our name. Backed by our extensive experience in a variety of heavy-duty sack (HDS) markets, we've designed a portfolio of heavy-duty sack films specifically for mulch and soil packaging that we're confident will meet or exceed our customer's expectations. In today's Product Spotlight, we'll be taking a closer look at IEF's high performance mulch and soil packaging films.
Built to Handle Bulk
For many mulch and soil manufacturers, heavy-duty sacks are the packaging application of choice due to their combination of strength and versatility. Mulch and soil packaging needs to not only protect the finished product, but also be strong enough to withstand the rigors associated with transport and handling with the end-user. IEF's specialty films for heavy-duty sack packaging combine the benefits of flexible packaging with high tensile tear strength and puncture resistance levels, ensuring performance throughout the end-product's life cycle.
IEF's heavy-duty films for mulch and soil packaging were also designed with performance in mind when it comes to the bagging process. We have films available with high stiffness levels that help with automated processing, and IEF's state-of-the-art blown film lines allow us to provide consistent wind and gauge profiles. In addition, IEF has large OD roll formats available, allowing us to meet our customer's exact specifications.
When asked about IEF's standard product portfolio, Sales Manager Tony Vaccaro stated "We've developed a line of industry-proven standard products that give us flexibility and allows us to offer our customers different options that address performance and economics."
When it comes to printing, IEF's capabilities include fade-resistant inks that are ideal for outdoor storage, as well as low-scuff and high coefficient of friction (COF) properties. Want to learn more about our printing capabilities? Reach out to an IEF representative today.
Sustainable Sourcing Meets Sustainable Packaging
We understand the importance of sustainable sourcing for mulch and soil manufacturers, so we wanted to make sure we can provide sustainable films to match. From films pre-qualified for Store Drop-off recycling with How2Recycle® to films made with high percentages of recycled content, we have custom-built solutions that make switching to sustainable packaging easy. IEF's technical team also has several open development projects underway centered around heavy-duty sack films
For more information or to request a sample, be sure to reach out to one of our technical experts today.
At IEF, It's About the Film