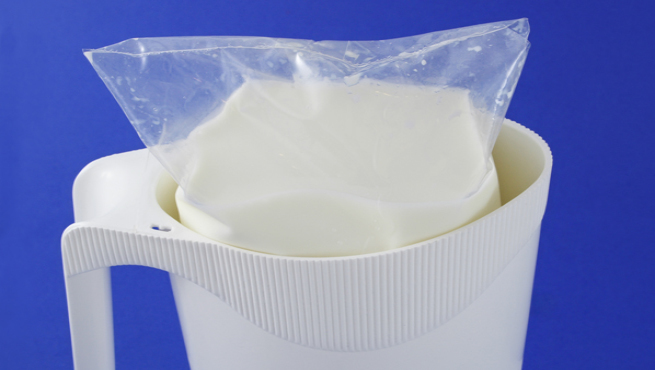 Engineered plastic films have proven their versatility in many different markets and applications over the years but liquid packaging has become a rising star.
With the food industry being a primary driver of its growth, plastic pouches are expected to see the largest growth among flexible packaging types through 2022 and thanks to advances in pouch manufacturing technologies, stands to become the go-to alternative to more traditional rigid packaging such as cartons and cans.
To get a better understanding of this flexible packaging solution, we sat down with IEF's experts to talk about this segment and its growth potential.
Engineered to withstand the long haul
North America is linked by transport trucks and long stretches of highway. That means hours, and even days, where products are sealed in flexible packaging in shipping containers and trucks. That much time on the road means your engineered film needs to be tough.
"The biggest challenge when it comes to shipping liquids is that whatever the liquid is, it's going to continuously move inside the package," says Steve Brzostowicz, Technical Director at IEF. "There are a lot of hydraulic forces at play so your resin selection is critical.
"You're going to want packaging that offers good flexibility, which means you're looking at a single or double-ply configuration. Traditionally, you would use ethylene-vinyl acetate (EVA) resins to make your films but we're seeing a move to lower-density metallocenes that not only offer similar flex and crack resistance to EVA but bring improved drop strength and puncture resistance."
Another improvement that metallocenes bring to liquid packaging over EVAs is that it's less likely to cause flavor scalping. Protecting against this is crucial for food products to not only ensure quality but consistency. Furthermore, if you're dealing with a product that is sensitive to oxygen, your formulation needs to account for that, too.
"If you're packaging an oxygen-sensitive product like tomato sauce or bag-in-box wine, your formulation needs an oxygen barrier," said Brzostowicz. "This is where a nylon or ethyl vinyl alcohol (EVOH) layer is crucial to maintaining your product's quality."
While there are several considerations that need to be made for liquid packaging, there is still one that trumps them all.
A bag is only as good as its seal
For most milk drinkers, pouring a glass from a paper carton is the norm. But, for parts of Canada, milk comes sealed in an engineered plastic pouch.
"Bags of milk are a staple in some provinces but the engineered film itself has found use outside of the dairy industry in the US," says Don Oldford, Strategic Business Development Manager at IEF Haremar. "Whether it's milk or juice, we manufacture using FDA and CIFA-approved resins for virgin prime production of extruded film for direct contact with food."
Dealing with strict regulations means formulations need to perform as expected, and that includes how well bags seal on the line.
"These bags will run at high speeds through filling equipment and seals need to set quickly and in some instances through product. It's important to test for leakers but with how we engineered our film, customers can achieve a quick seal thanks to its hot tack performance and that's important to our customers," says Oldford. "Leakers are not allowed in this business, especially when one leak has the potential to ruin an entire skid of product."
While the milk bag produced by IEF Haremar has been formulated for milk, there have been new applications for it in US correction facilities.
"A customer of ours in the US has used our formulation to expand their operations in an interesting way. They have juices and water packed in the US using our bags and then send them to correction facilities in the Carolinas. Cans and bottles are not permitted to inmates so our liquid packaging has really helped to solve that particular logistical challenge."
With better formulations and versatility being key reasons why customers are turning more towards liquid packaging, it's important to acknowledge how this packaging type can have a positive impact on your bottom line.
Fewer trips, more product, better carbon footprint
Packaging that protects matters but you still have to get you product to your customers. While it may be a standard ledger expense, it's one that liquid packaging can help reduce.
"Shipping costs are all a part of doing business but when you're not able to fill a shipping container to its capacity, you're losing money because you're not shipping as much product as you could," says Steve Griggs, Director of Sales at IEF.
"If we think about rigid packaging like Tide laundry detergent bottles, they have an irregular shape and when you fill a box for shipping there is wasted space. Now, P&G are changing how they ship through eCommerce with their new bag-in-box design and they're really minimizing their freight expense while maximizing their ability to fill a shipping container."
From a quality assurance standpoint, flexible liquid packaging offers more protection for a product than large, rigid containers.
"For a food product like pasta sauce, there are opportunities for contaminants to get into your product all along the supply chain. With liquid packaging, as soon as that seal is complete in the manufacturing facility, you're eliminating a lot of potential contamination points."
To learn more about liquid packaging and our formulations, get in touch with one of our experts here.