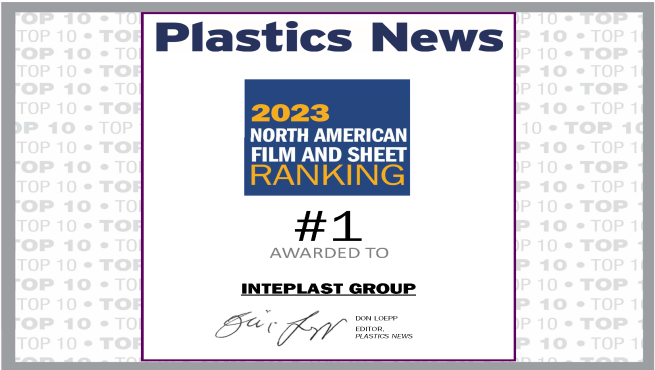 Plastics News has released its 2023 North American Film and Sheet manufacturers rankings, and Inteplast Group has claimed the top spot for the third year in a row. Plastics News estimates Inteplast Group's film and sheet sales at $3.68B.
The annual list showcases the top manufacturers of plastic films and sheets, ranked by estimated sales revenues. Inteplast placed first in 2022 and 2021, third in 2020 and 2019, and second in 2018.
As a division of Inteplast Group, Inteplast Engineered Films supplies industry-leading blown films and flexible packaging solutions to a wide variety of markets. The IEF team is extremely proud to have helped contribute to this exciting accomplishment.
When asked about the rankings, IEF President Bob Stein stated "It is always nice to see how universally accepted the products and services offered by Inteplast are. That said, as I'm sure all of my IEF colleagues agree, our real goal is to be number one satisfying our customers with quality, innovation, timeliness, responsiveness, and value. We will continue to focus on these important criteria."
Interested in partnering with the industry leader in film expertise? Reach out to one of our technical experts today.