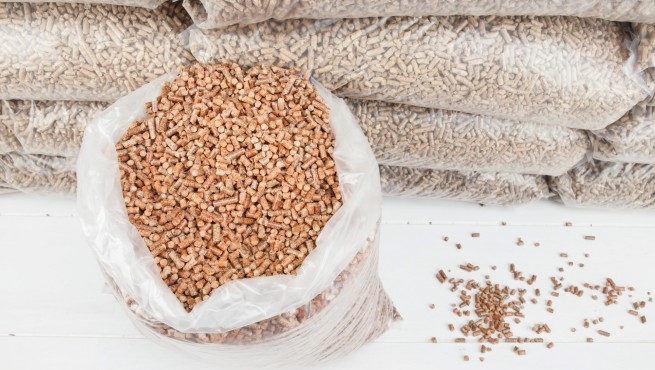 Backed by decades of legacy experience in servicing a variety of heavy-duty sack (HDS) markets, we've built a comprehensive portfolio of heavy-duty films for wood pellet and pellet fuel packaging applications that prioritizes performance and consistency.
Common applications include, but are not limited to:
Barbecue Pellets
Bedding Pellets
Pellet Fuels
Our standard HDS films are optimized for the demanding requirements associated with wood pellet packaging, and feature excellent physical properties such as high puncture and tear resistance. Our films can also be customized with varying coefficient of friction (COF) levels for bag stacking, as well as customized UVI resistance.
The bagging process was a point of focus when developing our HDS films. We have films available with high stiffness levels that support automated processing, and our state-of-the-art blown film lines allow us to provide consistent wind and gauge profiles. A variety of widths are available to meet our customer's exact specifications.
In addition to our standard product portfolio, IEF is able and willing to work with our customers directly to develop customized heavy-duty sack solutions for their unique applications. Reach out to an IEF representative today to learn more about our customization process.
Sustainable Packaging Without Sacrifice
IEF also has options available for wood pellet manufacturers looking to switch to more sustainable packaging alternatives. From films with high percentages of recycled content to pre-qualified films for Store Drop-off recycling, our InteGreen™ family of films offers our customers an industry-leading portfolio of sustainable solutions.
Protective Pallet Packaging
For customers who ship by the pallet, IEF has developed a stretch hooder film offering that boasts unrivaled performance. Our stretch hooder films were specifically designed to improve upon common performance issues seen with hooder films currently on the market.
We've combined superior stretch properties with excellent containment force for load stability, as well as high puncture and tear resistance.
IEF also provides our stretch hood customers with a dedicated technical support staff – a unique service rarely seen elsewhere in the industry. To request more information about our stretch hood film offering, click here.
Are you ready to upgrade your wood pellet and pellet fuel packaging? Reach out to an IEF representative today.
At IEF, It's About the Film.